 A Well-known Company with Electronic Component Products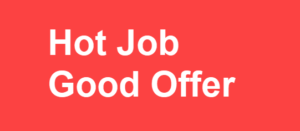 The company is an international company with headquarter in China, a listed and well-known company with electronic component products, to meet with their development, they are now urgently hiring a professional as following
Title: Senior FAE Manager (Field Application Engineering Manager)
Report to: Global Marketing Director
Working Location: North America ( home based, USA or Canada)
Responsibilities
Be the single point of contact for the customers in US. to enhance technical communications between customer and the global engineering, product management and sales teams;
Regularly visit customer to build up relationship and provide technical presentation, training and support to the customer;
Work closely with the customer to achieve the following objectives
a) Understand their technology trend and future product requirement as a result of regulatory and standards evolution;
b) Provide voice of customer for engineering team in developing new products;
c) Capture the opportunity in its earliest stage that The Company product can be designed in;
d) Propose practical solutions which can be designed into a specific product by interpreting and conveying customer's design specifications / requirement to engineering team;
Build up NPI Pipeline and work with team closely to achieve the targets of sales revenue;
Experience & Education Required
Good technical background in electronic design, manufacturing and/or its application.
Minimum of 5 years of engineering/business development experience preferably in Dell, HP, Lenovo PC and Server industry.
Familiar with CAD tools such as Pro-E, Solid-works, etc.
Willingness to travel on a regular basis.
Be innovative and ready to learn and promote new ideas to the customer.
Minimum of a Bachelor's degree in mechanical or electrical engineering or equivalent.
Good communication skill to interact with a multi-functional team.